Ready to take advantage of an EVgo account? We're so glad you're here!
You can sign up for EVgo from a desktop browser or from the EVgo mobile app (Android and iOS). We recommend that you enroll using whichever method you plan to use EVgo - if you will primarily use the EVgo app, then go ahead and download the EVgo app to register from there.
Important note:
Non-members are always welcome to charge with EVgo using a credit card. That said, we strongly encourage drivers to become members instead of completing individual charging sessions. Even with our free Pay As You Go plan, you'll benefit from reduced charging rates, EVgo rewards, access to EVgo gated locations, the ability to reserve a charger, and more!
If you need additional assistance with enrolling in EVgo, feel free to check out our EVgo Account FAQs or contact the EVgo Charging Crew at 877-494-3833. Our Call Center team is available to support you 24/7, 365 days a year.
Details needed for sign-up:
When you sign up for an EVgo membership, you will need to confirm the following:
Your preferred EVgo plan
A valid credit card
Your contact details

You'll need to provide a valid cell phone number that can receive text messages; unfortunately, you won't be able to complete enrollment without verifying your phone number via text.

Basic information about the vehicle you will be charging
If you're not sure what plan is right for your needs, we've got you covered! Use our Plan Finder tool that recommends the best option based on a few questions.
Some other tips on selecting your plan:
For a side-by-side view of each plan, check out our Pricing Page from a desktop browser - many users prefer this layout to visualize their options.
You can change your plan anytime from your EVgo account! If you're not yet sure about the best plan for you, feel free to select the free Pay As You Go plan to get started. You can enroll in one of our monthly paid plans later as you learn more about your charging needs.
Check out our Plans and Pricing FAQs for more tips!
From evgo.com, click Sign Up Now to see our pricing page: https://www.evgo.com/pricing/
Select the EVgo plan that will work best for you

Be sure to select your region for the most accurate pricing estimates

Click Sign up on your preferred plan
Enter in your Account details as prompted
Enter in your preferred credit/debit card details

EVgo accepts Visa, Mastercard, American Express, JCB, and Discover

Check your email for a message from EVgo with a verification link to complete registration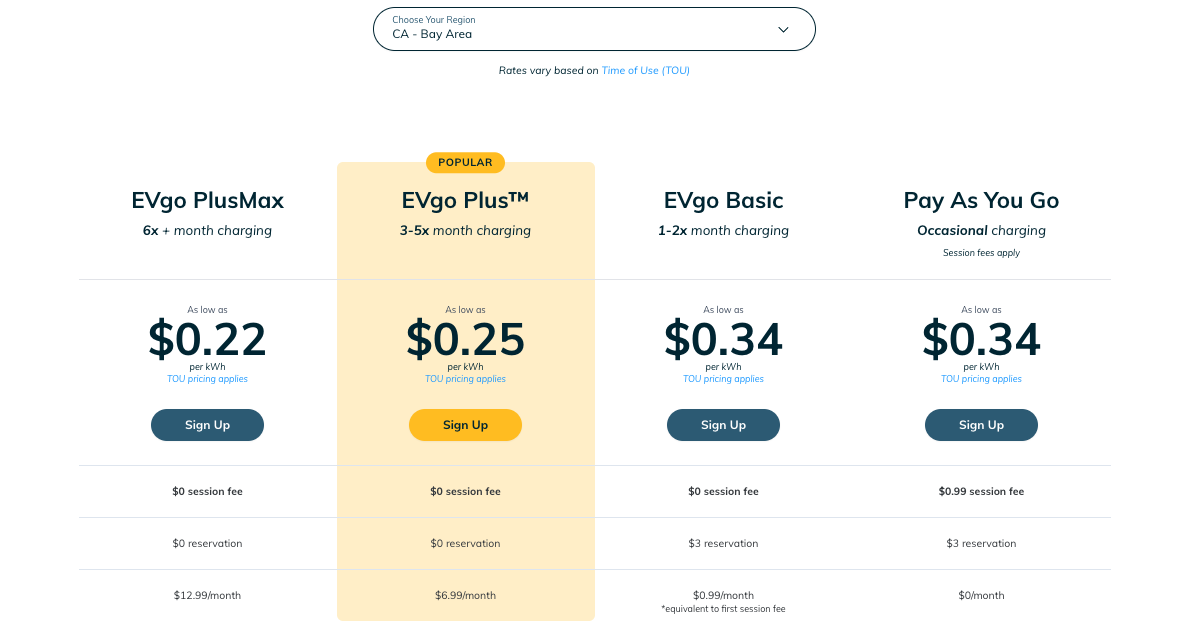 Sign up from the mobile app
The EVgo mobile app is free to download for both Android and iOS (Apple) products. After the app is downloaded to your device:
Tap Sign Up from the app landing page
Provide the requested details on the Your Info page

Confirm your first and last name, email address, and password
Read the Terms of Service and Privacy Policy and confirm that you agree
Confirm if you would like to receive text updates for your EVgo account

Select Agree & Continue at the bottom of the screen
Enter your cell phone number and tap Submit

We'll text you a code to confirm your number, which you will provide on the next screen

Check your email for a message from EVgo with a verification link to complete registration