You must have a valid payment method on file to use EVgo as a member, even on the Pay As You Go plan. If you did not add a payment method upon account creation, you can add and manage your payment method(s) from the EVgo app or website. Select the platform you're using below for more specific details:
EVgo accepts most major credit/debit card providers, specifically Visa, MasterCard, American Express, and Discover. You can add a credit or debit card; pre-paid credit cards are also acceptable to use in your EVgo account.
A note about your Primary/Default payment method:
The first card added to your account will also be automatically delegated as your default payment method for monthly billing and any other billing matters. You cannot delete the default card on your EVgo account. You can adjust the default method after adding another payment method to your account. Find more in our article: Manage your payment methods
If you need any more help adding a payment method, please check out our Billing and Payment FAQ page or contact the EVgo Charging Crew at 877-494-3833. Our Call Center team can support you 24/7, 365 days a year.
Add a payment method in the EVgo app
From the landing page, tap the menu icon (☰) in the top left
Select Payment & Billing within the Main Menu panel
Select Payment Method
Tap Add Payment Method at the bottom of the screen

Tap the + button on the top right if you have previously added a payment method

Tap Credit or Debit Card on the selection popover
Enter your card number and tap Next to add the remaining card details
Tap Add Card on the top right when everything looks good
When successful, we'll add the card to your Payment Method screen.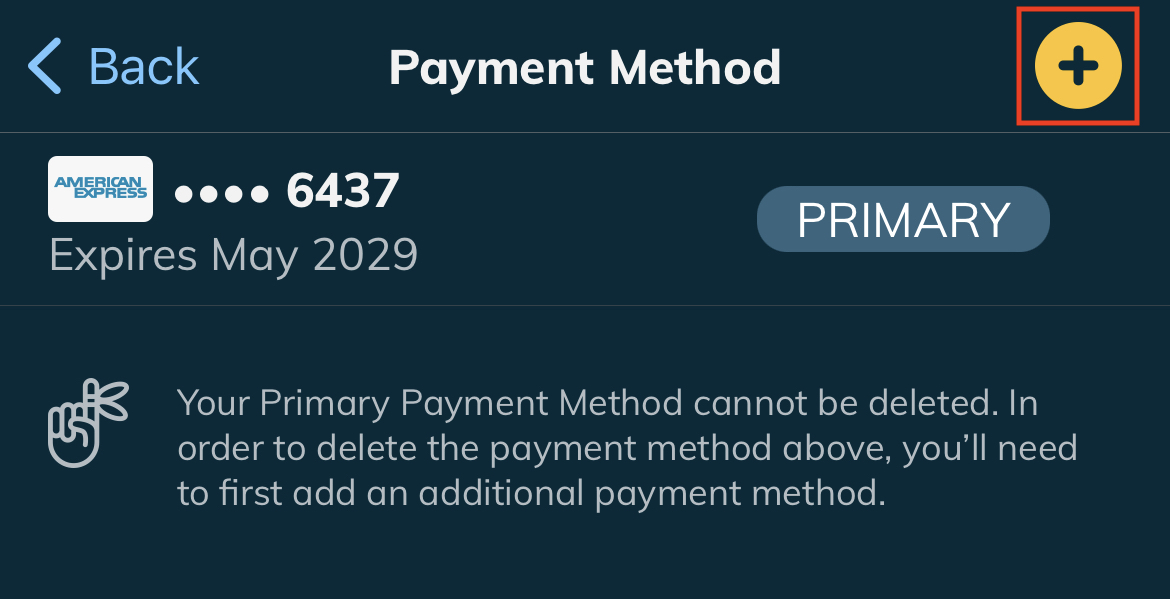 From the landing page, select Account > Payment Methods
Select + Add Payment Method at the top of the panel on the left
You'll be redirected to a form to provide your card details; enter the details as prompted
Click + Add Payment Method after the form is complete
We'll add the card to your Payment Methods screen when it's added successfully.